MUSIC Webinar - Disruptive bioenergy technologies: delivering decarbonisation of industrial processes, 22 February 2022
Webinar organised by Bioenergy Europe in the framework of the EU Industry Week: Disruptive bioenergy technologies: delivering decarbonisation of industrial processes
22 February 2022, 11:00 12:30 (CEST)
Bioenergy plays a key role in decarbonisation and straddles multiple industrial ecosystems. Innovative bioenergy use, coupled with digitalisation, facilitates the decarbonisation of a wide range of industrial sectors.
The event will summarise the experiences in different industrial sectors across the EU in utilising digitalisation for decarbonisation and will bring together speakers from the industry, academia, and national authorities.
Participants will discover the innovations taking place within the bioenergy industry. Case studies of innovative bioenergy technologies will showcase the intertwined nature of the digital and green transitions and highlight how digital innovation in the bioenergy sector is key to achieving decarbonisation of the energy-intensive industry ecosystem.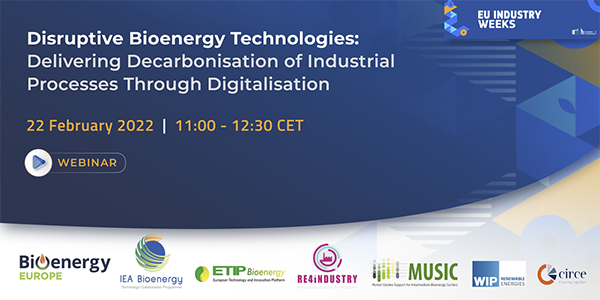 Full agenda will be available soon.
---